Logistics in the pharmaceutical sector is fizzing with innovation. The rapid development of sophisticated – and in many cases sensitive – medicines, coupled with increasingly stringent global standards on the transportation of drugs, has inspired a range of companies to invest in advanced technologies that protect products from temperature and humidity changes.
Global logistics is always complicated, because by definition trade networks run through different jurisdictions, criss-crossing land, sea and air, which means containers are exposed to variable environments and temperatures. When it comes to pharma cargo, the risks associated with these changes are magnified because the fragile products must be kept in precise conditions.
In order to preserve the efficacy of pharma products, their environment needs to be consistent from factory to final destination, whether the latter is a city-centre hospital or an out-of-town chemist. A slight increase or decrease in heat or moisture levels, for example, could compromise an entire shipment of pharma cargo.
Safekeeping measures for drugs in transit
Advances in the pharmaceutical logistics space in recent times have focused on this area: ensuring consistent conditions for drugs in transit, regardless of the weather at the origin, final destination and all points between the two.
Containers have evolved from simple cardboard boxes into specialised products capable of maintaining optimal conditions for drugs in transit; cool dollies – mobile storage units – and thermal blankets, made with breathable material capable of controlling humidity and heat transfer, are used to maintain pharma between ramps and cool centres at airports.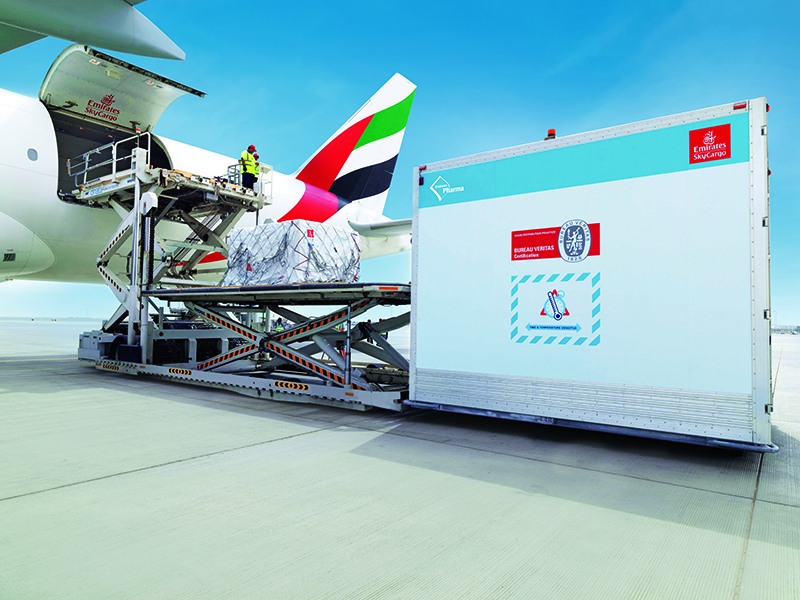 Delays to ramp hold times, where cargo waits on tarmac prior to being loaded onto planes, are prime situations in which things can go awry, according to Mark Mohr, Senior Director, Partner Management at CSafe, a company that supplies cold chain solutions to the logistics industry. "Airlines are very sensitive to exposing medicines to temperature changes, so they pull freight on carts plane-side as late as they possibly can, thereby minimising wait time to load," he says.
"Airlines also have protocols to retrieve cargo if planes are delayed or flights are cancelled and take them back to the warehouse. Containers like ours, which maintain temperatures, ensure the products' integrity while this is going on. If products are held in a cardboard box, there's a much greater chance they would expire."
Companies are also working to develop ways to prevent damage via mishandling by logistics handlers; in some cases even a rough and abrupt transition from a forklift truck into a plane hold could disrupt fragile drugs and threaten their quality.
The introduction of regulatory frameworks: WHO & GDP
"The pharma industry used to be largely self-regulated in this area, but now it is regulated by governments as well as pan-governmental groups like the World Health Organisation. These define minimum standards, which today cover many aspects of the shipping process," explains Richard Ettl, Chief Executive of SkyCell AG, a provider of temperature-controlled storage solutions.
"The classic challenge is regulating temperature. Some countries enforce a strict label chain, so if 8 degrees is the critical temperature for a vaccine and it comes in at 8.1 degrees, then it can't be sold in that market. In some cases, countries will still accept the vaccine, but only after it passes a chemical exam to prove it still works."
In 2013, the European Union published guidance entitled 'Good Distribution Practice of Medicinal Products for Human Use'. It laid out standards for quality management, risk control, hygiene, training, equipment, premises and responsibilities. The document represented an attempt to tighten up standards in pharma logistics and create a baseline for minimum standards.
The EU guidance caused a ripple throughout the logistics industry, if not immediate widespread action. According to Ettl, change started to gather pace, and pharma companies and logistics providers started upgrading a few years after the document was published.
Expanding further, Ettl comments: "The pharmaceutical industry saw there was more need for temperature control, which meant in some cases upgrading from a brown cardboard carton to a soft box. There were not a lot of other options in 2013. Today there is a huge process of upgrading underway that is driving our market for temperature-control containers."
Improving pharma air cargo technology: a healthy rivalry
"State of the art facilities, systems and staff training programs require significant amounts of capital to develop. Hundreds of millions of dollars are being spent every year in the quest to capture the industry's cold chain traffic," explains Mohr.
"The good news is that a healthy rivalry has developed between solution suppliers, freight forwarders and airlines, all striving to invent the next product offering that will set them apart from the competition."
Emirates SkyCargo is innovating in this area with its White Cover Xtreme and White Cover Advanced thermal blankets, developed in partnership with DuPont. These blankets protect temperature-sensitive pharma in hot, cold and rainy conditions.
Julian Sutch, Manager Global Commercial Development for Pharma at Emirates says: "Following the publication of the EU GDP guidelines, logistics providers for the pharma industry, including air cargo carriers such as Emirates SkyCargo, started investing in the infrastructure, processes and training for staff that was required to ensure an unbroken cool chain for pharmaceuticals. In addition to getting our hub operations certified for EU GDP by Bureau Veritas, we also took feedback from our customers to develop technology that offered better temperature control on the ramp. We now have a fleet of over 50 cool dollies and all temperature sensitive shipments get protected by our White Cover thermal blankets from origin to destination."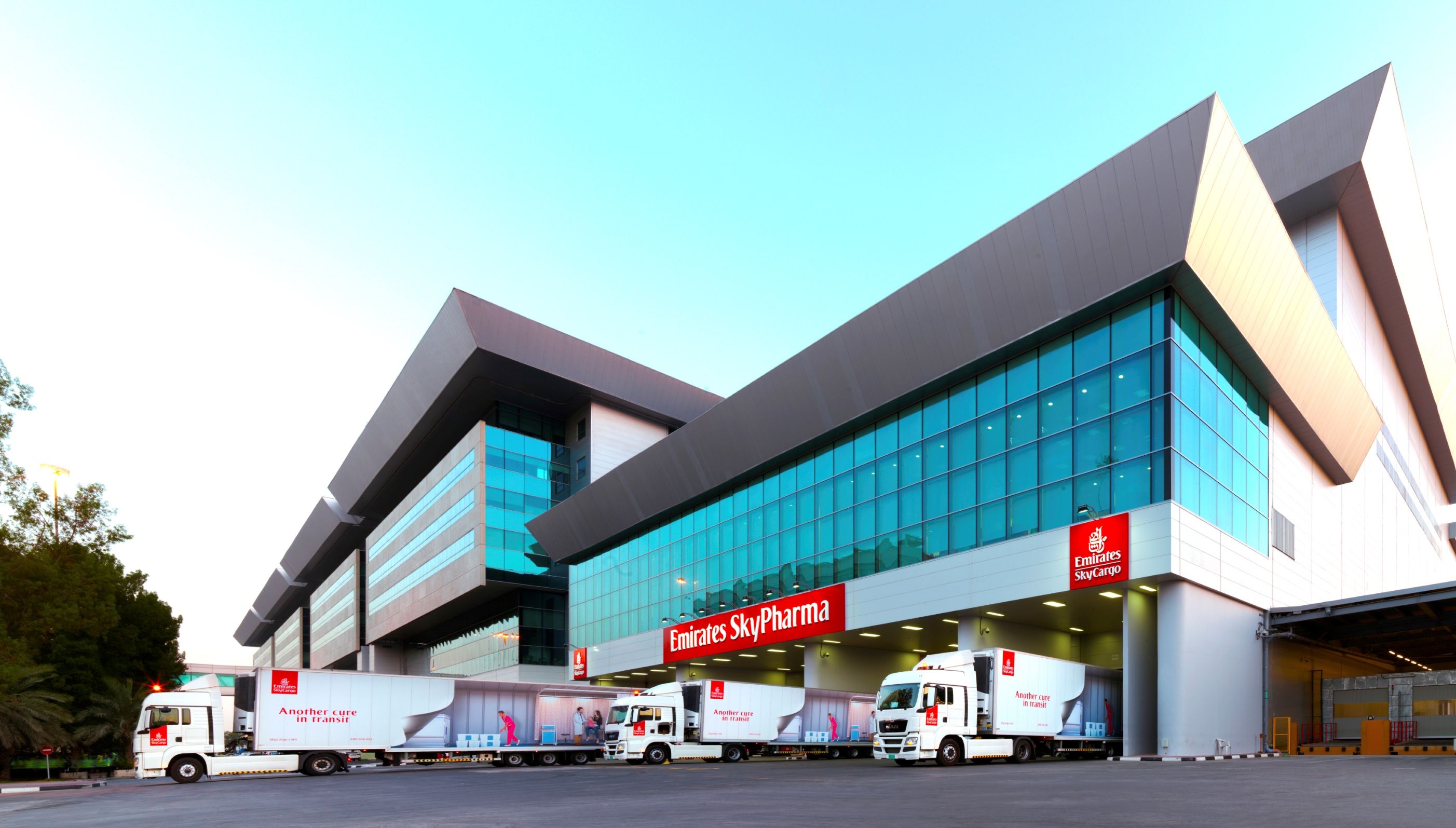 The organisation is also working with ground handlers at close to 20 busy stations where pharma traffic is high, to ensure that pharma handling practices conform with GDP norms and SkyCargo's own high standards.
Entry into new regions through improved container technology
Incorporating container technology that regulates temperature is a major step forward because it relieves pressure points in the supply chain, for example, in parts of the world that lack cold storage facilities at air and seaports. Cool chain facilities are used to store products that are sensitive to temperature change and prevent them from expiring. The lack of suitable infrastructure offering cool chain protection prevents pharma companies entering the market. Temperature-control containers – with their agile ability to keep the drug environment stable as outside temperatures fluctuate – are efficient short-term substitutes.
Aside from careful transitory storage, the containers could also be used to ferry pharma products from large, well-resourced airports to smaller and harder to reach destinations in the same country.
It also reduces the risk of products expiring in the event of strike action by workers involved in the supply chain, such as air traffic control, or in the event of extreme weather events that prevent planes from taking off.
Anna Levander, Chief Sales Officer at Envirotainer, which provides temperature-controlled containers for air cargo on a rental basis, expands upon another way innovative tech could be used to deepen reach in existing markets: "It would be easy to dock an Envirotainer into a cold storage facility at an airport or manufacturing plant, for example, then package the drugs into smaller distribution groups. In time, these could be delivered to destinations via drone drops."
The impact of data analytics and IoT on pharma air cargo
Progressing from a cardboard box to a sophisticated container capable of maintaining temperature conditions even in areas where infrastructure is inadequate is just one part of the temperature puzzle, however. Another is data analytics, which record important information about the condition of products in transit.
"The industry has come a long way in using data to indicate whether a product has been delivered according to specification," comments Levander.
Modern containers monitor conditions of the cargo it holds using IoT technology. By reading information sent back by the containers, the owner can tell whether products are being treated in accordance with global policies, or if there has been a slip.
"Data can tell you whether the product is delivered in good order," says Levander. "It's vital to keep progressing in this space because expired products represent a huge loss to pharmaceutical companies; even worse, it could lead to ineffective or dangerous drugs being administered to patients."
"I think better tech will enable pharma cargo to reach new destinations and open up markets," explains Ettl. "That could drive revenues for pharma companies, airlines and logistics firms, but it will require change. You need different skills to ship to Lagos in Nigeria than you do to Miami in the US."
"We have a network spread of over 150 destinations across six continents. Sophisticated temperature control technology in the form of advanced containers that can maintain a constant temperature, and better tracking to monitor and prevent temperature excursions will help us deliver valuable lifesaving medicines rapidly to all corners of the world, even where advanced cool chain infrastructure may be lacking," comments Sutch.
New markets potentially mean greater volumes of sales for pharmaceutical companies. From a logistics point of view, better technology brings opportunities for growth in pharma cargo. How quickly pharma companies and their logistics partners continue to adapt will be reflective of the dynamic changes the industry is sure to face in the near future.